In India, we buy cars mostly out of necessity and that is where various manufacturing companies such as Maruti, Hyundai & TATA compete highly. There is a certain market share that belongs to all these companies and the competition is there till the last road. Even the dealerships of one company compete amongst each other in a state/district to capture the market and one such Giant dealership chain is PeeYesYem Hyundai.
PeeYesYem Hyundai has a great recognition in South of India as they have 7 Showrooms, 8 workshops, 10 used car showrooms and a customer base of 1000+. Before COVID put a lockdown on the entire nation, people used to visit the dealership and buy the car but the habit changed once COVID came into scene. Prominent digital presence become very important for Survival and this is where we advised PeeYesYem Hyundai to start the journey of Digital Presence.
Challenges:
So how to do you actually sell a product with such costing to the common man of India during lockdown while the economy dipped? Well, COVID had drastic impact on the pockets of people but still there were a lot of people willing to buy new cars and we needed to target them through Digital Marketing.
We had to compete with other dealerships, other brands and 3rd party platforms having a strong reference base. 2021 was an extremely successful year for our partnership with PeeYesYem Hyundai. Our focus was on to bring sales and thus we started with
Overall STATS – Till Oct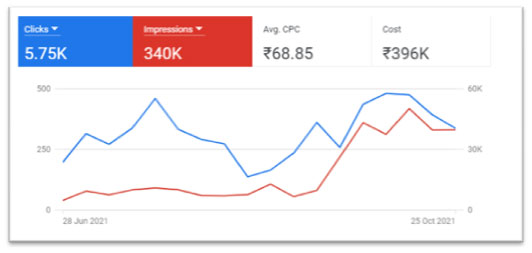 Google Ads Performance Month By Month
JULY Performance
AUGUST Performance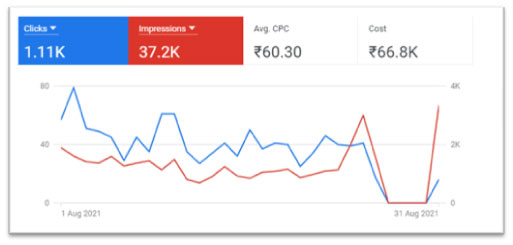 SEPTEMBER Performance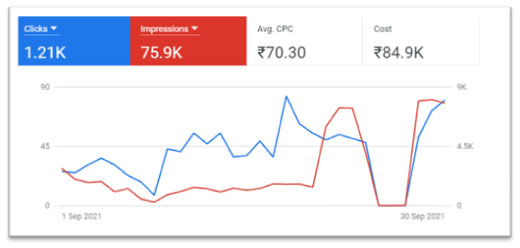 OCTOBER Performance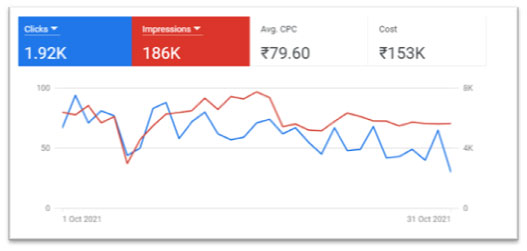 1. Auctions Insights.
As per the Auctions Insight, we managed to get 10.47% of impressions amongst various other companies running the ads
We are only behind Hyundai.com and Carwale.com and beating our dealership competitor.
64.48% of times our ads were displayed on absolute top rank which just 13% less than that of Hyundai.com
Interestingly in October 2021, our impression share increased to 17.03% and top of the page% increase to 94.37% and absolute top of the page % increased to 72.19%
We beat carwale.com in month of October in various parameters of performance.

Campaign Highlight
90% of the conversions that PeeYesYem received during the tenure was from Digital Advertising. With an ROI of % and calls increasing every month, we helped Peeyesyem to pass the litmus test.
Want us to work for you?
SHECUDLE A MEETING NOW!